admin2
INTRODUCTION
eProctoringMinds is an AI based online examination proctoring solution which allows educational institutions to harness the power of Intel Artificial Intelligence (AI) and videoconferencing to conduct & proctor examinations at students' own homes.
It uses pre-trained models based on extensive research by Intel's team of global AI engineers and has been successfully piloted in a University in Switzerland.
eProctoringMinds is a versatile & powerful tool which can be used for various examination formats, including at schools, colleges, universities, professional certification bodies & even micro-credentials.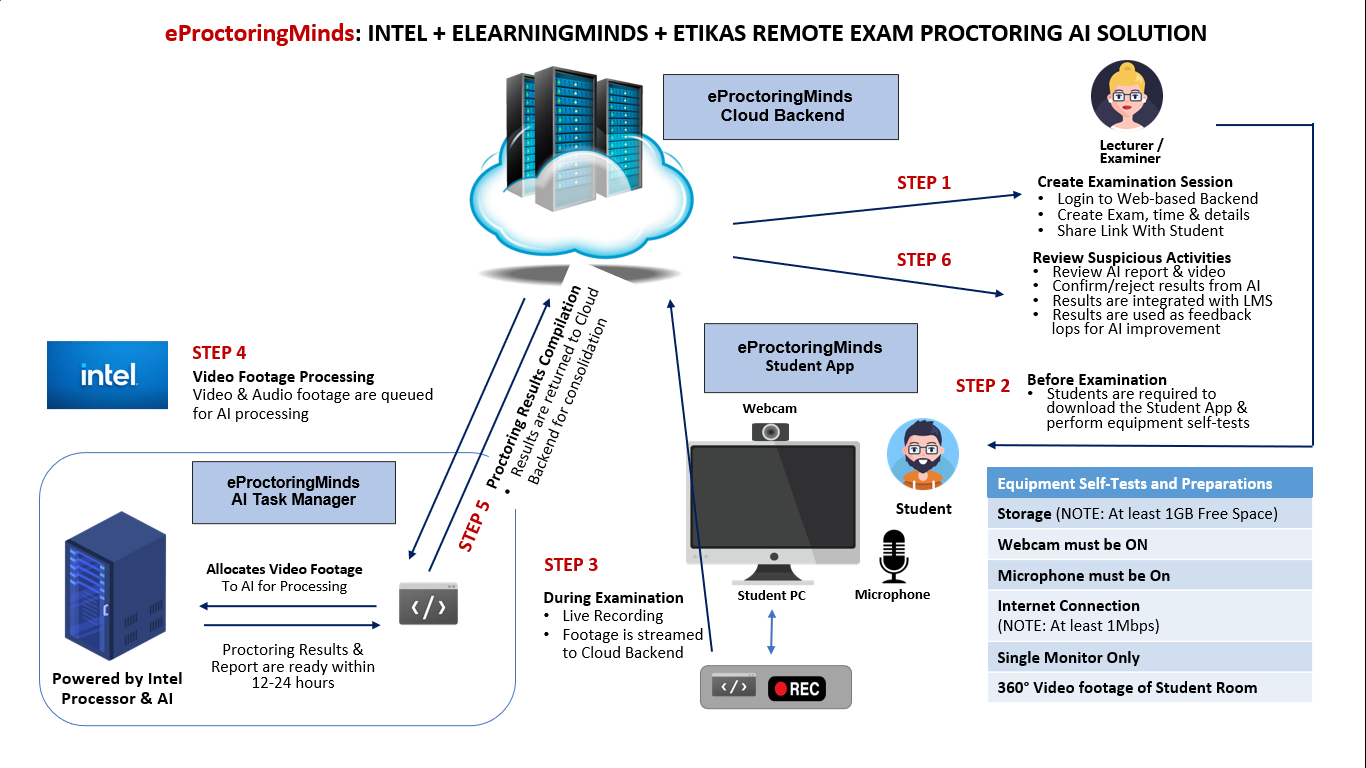 HOW IT WORKS
The eProctoringMinds system consists of 3 main components:
Cloud Backend: Secure, scalable & professionally managed & web-based solution.
Student App: Client application to be installed by students on their personal laptop or desktop machines.
Intel AI & Task Manager:
The eProctoringMinds employs these 6 simple steps:
STEP 1
Create Examination Session
Th Examiner may login to the eProctoringMinds' Cloud Backend to schedule an upcoming proctoring sessions by providing details such as examination title, time & other details. A URL link will be generated & the Examiner will need to share it with his/her students.
STEP 2
Before Examination
Upon receiving the URL link, students will need to follow the on-screen instructions, including downloading the Student App & performing equipment self-test to ensure the minimum system requirements & conditions are met. The list of system requirements are listed in the corresponding diagram.
STEP 3
During Examination
The Student App will enforce stringent monitoring of students' machines: including web-browsers, keyboard & mice activity and others. Live recordings of webcams, microphone, screen displays will be conducted & streamed to the Cloud Backend.
NOTE: eProctoringMinds treats the security and privacy of all its customers' data with utmost care and confidentiality and is fully compliant with data handling laws such as Malaysia's Personal Data Protection Act 2010 ("PDPA"). No recordings & monitoring activities of students' machine outside of pre-designated examination sessions shall take place, and all recorded footage are deleted once they no longer serve any purpose of resolving appeals or disputes.
STEP 4
Video Footage Processing
The recording video & audio footage will be assigned to the Intel AI via a Task Manager for processing. For an examination session of 40-50 candidates, the processing will be completed within 12-24 hours.
STEP 5
Proctoring Results Compilation
Detailed video & audio processing results from the AI are consolidated and summarized at the Cloud Backend. The proctoring report shall provide full detailed analysis of the examination for all candidates including all incidences of suspicious behavior, the time-code (HH:MM:SS) and video/audio clip of the incidences.
STEP 6
Review Suspicious Activities
From the Cloud Backend, the Examiner may review the AI's report for all suspicious behavior incidences and agree/disagree with the AI on a case-by-case or the overall result. The results will then be computed for individual students & updated directly to the Learning Management System (LMS) used by the educational institution. The system will also utilize the replies from Examiners as feedback loops for further improvements of the AI engine.
BENEFITS
Current trend on learning & examinations becoming online/hybrid
Able to address challenge of scale: hundred/thousand of students taking 1-2 hours of online exams simultaneously
Hugely reduce non-productive work with this assisted "potential-fraud detection" solution.
Reduce human error due to long hours of video viewing
Extra measurement to ensure integrity of online examination which is and will be the trend of education
AI-based semi-automated solution which can post-process exam footage & review for potential signs of cheating.
Assist to overcome limitations of manual fraud analysis process
For a downloadable version, click here: eLearningMinds ETIKAS Remote Exam Proctoring AI v1.4
Interest to know more? Feel free to contact us here.